Cooperative Extension Service NMSU-Bernalillo County

Major Program Areas
Brochure inEnglish & Spanish
---
Announcements
MOTHS
They are seasonal each year -- sometimes larger and sometimes smaller in number. The moths themselves are more of a nuisance, but their scales may impact certain allergy suffers. The larvae form is the Army Cut Worm which may cause harm to tender vegetable and flower seedlings in the garden.
FALSE CHINCH BUG
They are seasonal each year and some areas have more than others. If you have the appearance of small black bugs on your wall currently, they may just be these little nuisances.
---
Soil and Forage Testing Labs
The list below are a few labs that can test soil and hay forage. You will need to download the forms, complete, and include them with the sample.
Some labs are operating in a limited capacity due to COVID-19. Please check with the lab first, regarding turnaround time for your results
---
SUMMER GARDEN via ZOOM
Wednesday June 3 and 17 starting at 10am
Thursdays June 4, 11, 18, 25 starting at 6pm
Flier below with full details
Zoom Summer Garden Schedule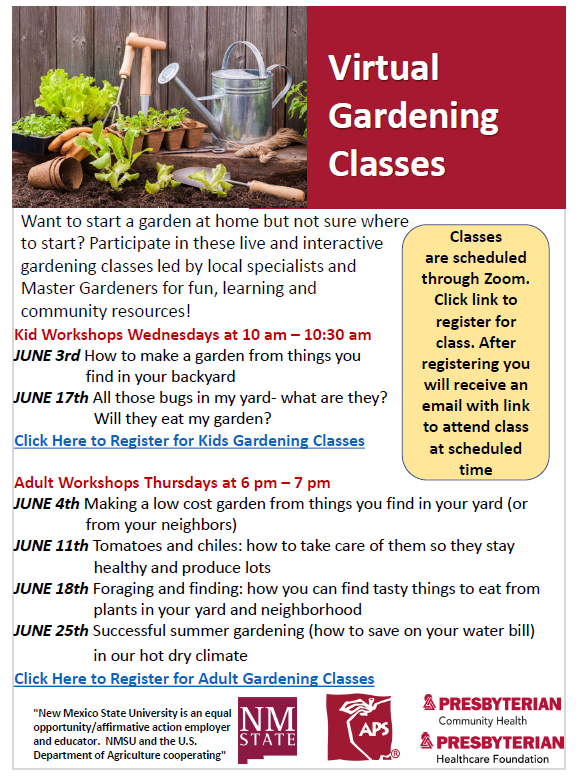 Thank you for your continued interest and support
As with all other educational institutions following COVID-19 guidelines, we share these updates:


Our office is closed to the public until further notice.

Agents are available via messaging (Click for Contact Emails... )

Some BCCES classes may be offered online via ZOOM; check individual class listings.

Certain in-person Extension classes are postponed statewide until safe to resume.

Summer & Fall classes may allow tentative reservations meantime; check listings.

Please continue to check back for future updates. (Updated 4/6)
4-H Activities from Home
New page offers support documents for home-based activities. Check back as agents create and share new projects.
Events & Classes
* NMSU-ACES Extension face-to-face programs are being rescheduled statewide *
Check individual classes listings for details (online options, postponements, or cancellations) (Posted 3/27)
(New Format) You Can Make A Change For Life - NDPP Classes

(Online & Phone) National Diabetes Prevention Program - SP & ABQ
Starting 3/31, Tuesdays, 9 AM-10:30 AM - (Click for details...)
Note: Both Sandia Park/East Mtns and Albuquerque sessions on Tuesdays, online via Zoom
(Suspended) Master Gardener Classes
Originally Tuesdays. Class dates & times TBD. Check back for updates, as alternatives and optional online resources become available while NM shelter in place orders are in effect.
---
---
Join our Mailing List (External site)
Receive quarterly mailings announcing upcoming courses, occasional interest-based special events notices.
---
Quick Links
---
Extension Program Webinars Now Online!
Learn about upcoming and recorded webinars by NMSU FCS faculty & staff. Click for info...